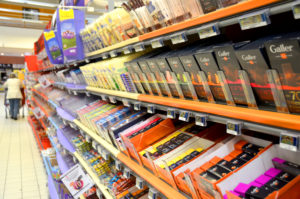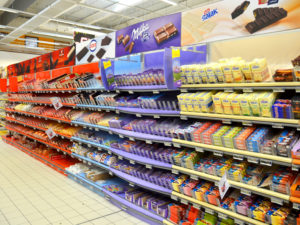 Cora & Mondelēz International
The chocolate category at Carrefour received a make-over with the goal to immerse the shopper more deeply in the category and to realise an increase in returns. The strongly positive results from quickly triggered a similar category improvement for Cora.
The chocolate shelf offers an enormous selection and to increase the 'legibility' of the shelf a separation by brand was selected for this project. By utilising the base colours of the various brands, their recognition increased and all the products became easy to find.
To add distinction and highlight certain segments, straight shelves are alternated with curved elements. LED lighting was implemented as well to draw attention to specific shelves and products. The beautifully-printed banners above the shelves provide space for branding.
Since then multiple Cora locations have given their chocolate categories a makeover and this resulted in an impressive increase in returns. Not just for Mondelēz International, but for the entire category.