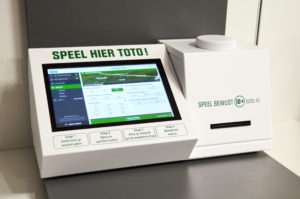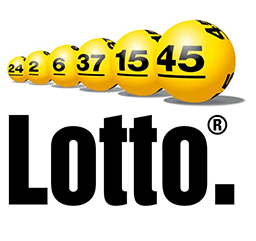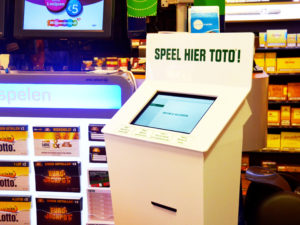 De Lotto
Toto is a game from De Lotto where you can predict the results of sports games and try to win money. To digitalise this game, De Lotto wanted to develop an interactive device. The goal of this development was to lower the threshold for existing and new customers and to deliver real time information to players and retailers.
To meet all the wishes of De Lotto, we created two versions of the EasyPlay terminal; a floor stand EasyPlay terminal and a counter version. Every EasyPlay terminal is equipped with a semi-Industrial tables that not only runs the app from De Lotto, but also an app devolped by Vlastuin. This Vlsatuin app manages the app, the printer and the wireless connection. This allows the customer to actually use the EasyPlay terminal to view up-to-date betting odds and place a bet. Afterwards the printer will print a receipt, which the customer can use to pay at eh cash desk of the store.
In addition to the app we also developed a CMS (Content Management System) portal that makes it possible to manage all the terminals in real time, run updates, upload screen samers, manage the content and run analyes. This can all be done for an individual device, specific location, region or store type.
Another important function of the CMS is monitoring the EasyPlay terminals. This allows De Lotto to keep an eye on units that are offline for more than 24 hours and if necassery make a Phone call to the location. Additionally, there is an option to automatically send an RMA (Return Merchandise Advice) to Vlastuin. We will then place a new unit on location within 48 hours to minimise the impact of the defective terminal. To complete the service we also take care of the analysis of the dsata and the maintenance of both hardware and software.