A 'world of beer' for Jumbo Leussink
A 'world of beer' for Jumbo Leussink
The Jumbo-affiliate of the brothers Niek and Tijn Leussink, at Haaksbergen, has undergone a complete transformation. On the 30th of August (2017), the doors of their new Jumbo food store were opened. They wanted to reposition their supermarket from a store with a community-reach into a store with a regional function by transforming their supermarket into a place where food & drinks, experience and grocery shopping meet. Vlastuins expertise and experience was very welcome in the process of realizing this.
Repositioning the beer category
In collaboration with Grolsch, also the beer-category was updated and transformed. The briefing was:
a beer-category which creates an experience,
the shopper has to be navigated to his or her beer of choice,
showing all of the other options available,
creating 'rumor': something has to 'happen' at a regular basis,
clear segmentation of the various products,
the shopper has to be invited to take a look,
make process of decision making for beer as easy as possible.
The ultimate goal of course is not only the shopper experience, but also shopper loyalty, revenue and an improvement in margin.
The result
This is the first Dutch beer-category where the shopper experiences several different impulses. For example: themed presentations, 'Pick and Mix', digital experience of a brand in the supermarket, combined with atmospheric illuminated images and the mood elements integrated into the shelf using wood, printed fabrics and led lighting.
An actual icy freezer, where the 'Grolsch IJsmeester'-feel has really come to life. Shoppers can grab their (ice) cold beers from this 'icy-beer-cave'. An 'ice-floor' and fully printed walls solidify the look and feel of this presentation.
According to Tijn Leusink; "The assignment was to create a beer-category with a WOW-factor and we have succeeded. People who live in this region enjoy beer a lot and therefore we have received a lot of positive reactions from our customers. Such as, for example the cold beer from the icy-beer-cave. The revenue proves it, because only the category 'special beers' already increased with 50% in the final period!"
Mirjam Fischer, Category manager at Grolsch, is also very pleased with the collaboration and result. "Grolsch wanted to show with Jumbo that beer is emotion. We are proud that we were able to realize this transformation of the beer-category in collaboration with Jumbo."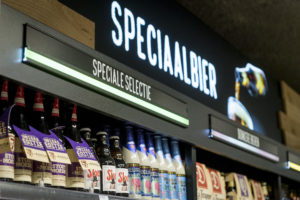 Vlastuin is very excited about de cooperation between the retailer and the brand. "To bring beer and the variety in the category to life, we received a lot of freedom regarding the design and implementation. The combination of elements which together create a fascinating whole is special for a supermarket," Harro Vlastuin says.
Take a look at this video, which shows the creative process and development of this project. Do you have any questions about this project, or about one of our other cases? Please do not hesitate to contact us!