From a small request to an extensive project
From a small request to an extensive project
Having the right materials to work with is important to any handyman, whether he is an amateur or a professional. Nobody wants to see their newly installed cabinet falling down. Fischer is the market leader in the branch of 'fixing systems'. They are a German family business with offices worldwide.
When fischer was ready to introduce their new product, DUOPOWER (a plug which is suitable for numerous materials) they were looking for a display to go with it. Fischer contacted Vlastuin with this request. "Vlastuin has a good price to quality ratio. Also, Vlastuin has shown to be a reliable partner", says Alexander van der Sijde, Manager Marketing at fischer.
A project that started small, became a large campaign: the biggest for fischer to this day. "It is so extensive, this whole campaign is unique to us", van der Sijde says.
"In January we were discussing the production of approximately 250 floor displays to promote the DUOPOWER. The launch was planned in April. Due to an overwhelming success in Germany, the launch had to be pushed back to October."
Expansion
New ideas submerged during this period of delay; they became an expansion of the initial project. This expansion is complementary to the already produced floor displays and contains the addition of counter displays, sample packs and online samples of which 650 have been produced.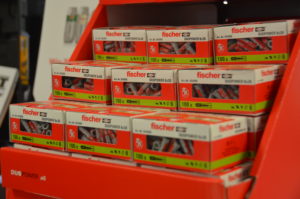 Marjolein de Water, project coordinator at Vlastuin agrees. "The sheer extensiveness of the project is what makes it special. What started as a request for a floor display, has turned into us leading the complete promotional course where we gradually added more and more elements."
The initial reactions to the campaign have been positive, according to Van der Sijde. The DUOPOWER is planned to be released into the DIY channel in 2017. Vlastuin hopes to be a part of this project as well.