HEMA chocolate letter display
HEMA chocolate letter display
For the third year in a row, the special HEMA chocolate letter displays are instore showing  three types of letters, optimally protected and presented. John Huissteden, packaging specialist and already working at HEMA for 37 years: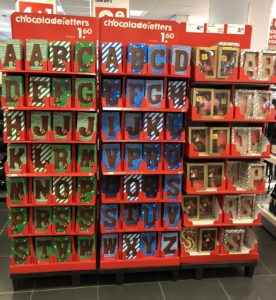 "The displays are developed in collaboration with Vlastuin and two chocolate manufacturers and extensively tested on the logistic demands. In order to fit the entire alphabet in one display, it is slightly higher than the regular shelves, making stability extra important. The trays are filled with letters at the production line and collected on a pallet until the displays are built up. Refilling the displays per tray is also possible.
By using shelves that are placed in a slight angle, the letters remain well in place and the products are very visible, not only on the front, but also on the sides they pull the attention. The boxes of the letters are created, taking this into account, by placing the most important messages in sight.
The filled chocolate letter displays are delivered internationally in amongst others Belgium, France, UK and Spain. Because of the necessary transhipment, the displays are transported on CHEP dolly's. This also enables the option to place the displays outside in front of the shops every morning, for example on Stansted airport, for extra visibility.
The choice to ship the filled displays internationally is new and challenging and the collaboration with Vlastuin the total process is very pleasant, thinking along and quickly making progress. Commercially the display is also a big success that HEMA is very satisfied about.
HEMA is known for finding niches and offering a good price/quality rate with for example the smoked sausage, photoservice and paint products. The chocolate letters add up to this, regarding product and presentation in the special displays.