Promotion for Soudal around the Tour de France
Promotion for Soudal around the Tour de France
For two years now, Vlastuin organizes an exclusive summerpromo for Soudal. In the run-up to the Tour the France, there is promotion in every do-it-yourself-store (DIY store) in 22 countries, from Belgium to Australia.
Worldwide increase of brand awareness
To enlarge its brand awareness, Soudal has been sponsor of several cycling events in recent years. With success, in particular for the Worldtour cycling team Lotto-Soudal.
Sport stands for emotion and with this promotion, Soudal knows how to reach their target group. This because the handyman loves cycle-racing. In May when we are all waiting for the Tour the France to start, the promotion will be set up in all the big DIY-stores. Of course, the nice presentation definitely deserves the ultimate spot in the store, which will improve sales.
About Soudal
The Soudal Group, with its head office located in Turnhout (Belgium), has offices in 44 countries and sells in more than 130 countries. This family company, delivers since 1966 products like, sealing compounds, glue guns and cleaning agents for the international construction, industrial and retail sector.
Collaboration Soudal / Vlastuin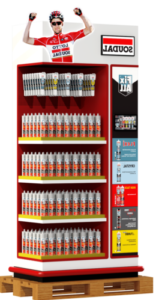 Erik De Groof, Marketing Manager at Soudal, is enthusiastic about the collaboration, and he sees Vlastuin as a 'supplier with a plus'. "By applying its expertise, Vlastuin activily contributes to the presentation of the promotion in the stores. This results in a uniform presentation in all the stores, in more than 20 countries. Vlastuin is very good at this. Furthermore, Vlastuin also is aware of the importance of logistics, because the presentation appears in so many countries, for example labeling and coding are very important. These are key conditions for success."
The sales- and projectmanagement team at Vlastuin, is also excited about the collaboration: "The people of Soudal really appreciate a proactive approach and based on our knowledge, experience and creativity we are able to provide Soudal with new ideas. That makes our cooperation so dynamic."
"That's why we came up with a new idea of a permanent mobile presentation. Due to our collaboration and mutual trust, we were able to switch quickly. Within a month we finished the new Soudal presentation for the introduction on the DIY exhibition in Kortrijk. Their customers were very pleased with this new product and already ordered 25 mobiles, which will be placed in 25 stores in January 2018."