Unique inspiration corner for Stoopen & Meeûs
Unique inspiration corner for Stoopen & Meeûs
Stoopen & Meeûs, a Belgian family firm with a proud history, has been around for no less than 125 years by now, making it one of the oldest companies in Antwerp. Thanks to the many years of experience, Stoopen & Meeûs sells pigments, colourings and mineral finishes in more than 40 countries.
Source of inspiration
More or less unique in this market is the development of an inspiration corner for the wholesale/specialty segment trade, the purpose being to inspire clients, whether they are a fitter/processor, project developer, architect or private customer.
Perfect fit in look & feel
The inspiration corner fits perfectly with the positioning of the brand, in terms of the look & feel. The materials and the modularity (panels) make the corner both timeless and sustainable, in keeping with the brand values of Stoopen & Meeûs.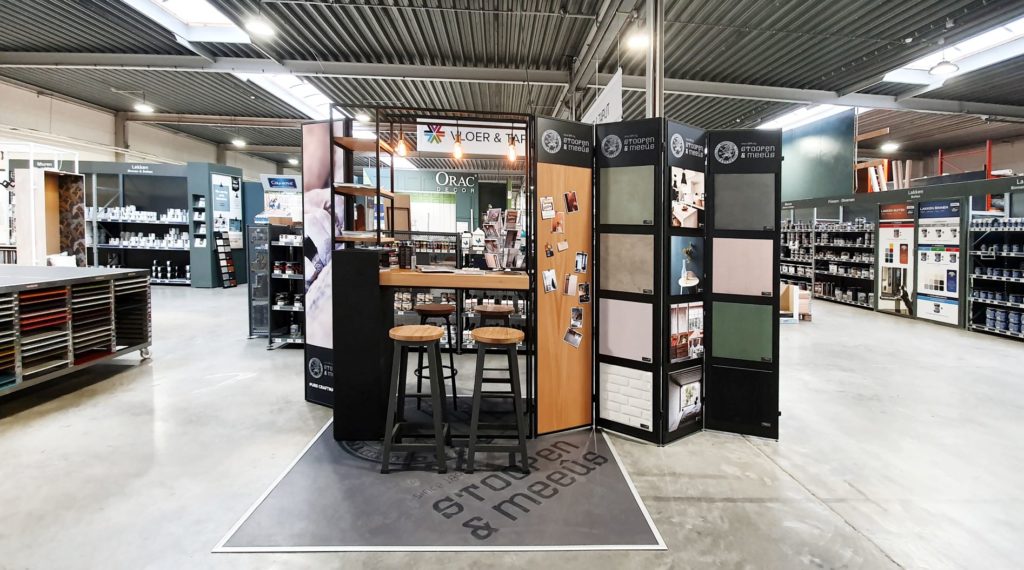 Conscious choice of materials
The furniture is made from natural wood, metal and printed cloth. Paint and various structures have been added to the sample panels in order that clients can not only see the products but also feel their texture. There is also great attention for detail in the lighting: led lamps have been chosen, with a vintage look.
Advice at the table
In Belgium, at Thiry Paints in Leuven and at Lambert in Lodelinsart, inclusion of this corner now offers the opportunity to consult and advise with clients while sitting at a table. The plan is to introduce this concept to the market selectively, and to use it at trade shows, for example.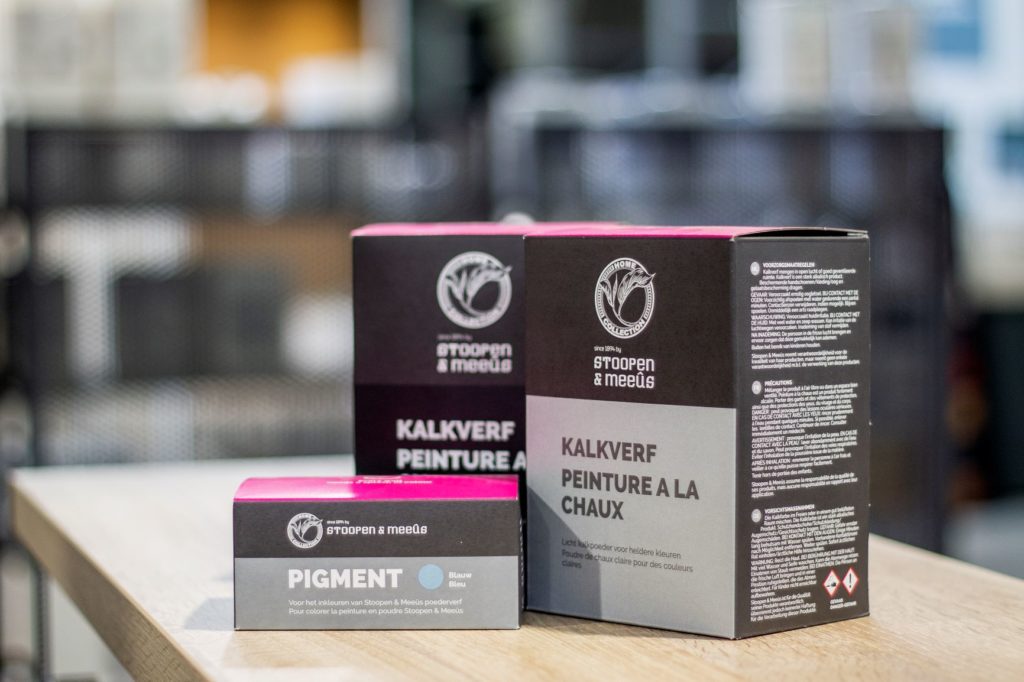 360 degree Home collection display
Besides the inspiration corner, Vlastuin has also developed a wooden Home collection display in order to demonstrate the new mix & match concept for this paint. It is a 360 degree furniture display, including an explanation of the products.
The right partner
Client David Demeyere: "For me, what's so special about Vlastuin is the feeling that the whole team works on our projects. Moreover, Vlastuin soon understood how we wanted to place our brand and how that could be best translated, visually speaking, into creative and practical in-store concepts. And so we truly feel that we have found the right partner."