New: 'Fliplight', pop-up display. Only now 50% off!
New: 'Fliplight', pop-up display. Only now 50% off!
Vlastuin introduces a new mobile pop-up display, the Fliplight. An excellent choice for any exhibition, promotion, showroom or retail environment.

Lightweight and foldable display
As the name 'Fliplight' indicates, the display is lightweight and easy to unfold only with a few quick moves. The Fliplight is beautifully illuminated and delivered in a handy bag. The display image is easy to replace and makes the display suitable for multiple-use. Several options are available: an oval totem, a double tradeshow desk which can be used as a reception desk, a promo tube or a showcase. And last but not least: against an affordable price.
Promo-action Vlastuin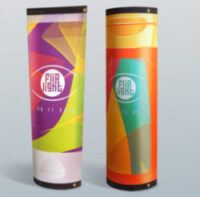 Vlastuin can offer you a special deal: the first 10 clients that order a Fliplight will get a 50% discount. For only € 175,- you can have an oval totem or a portable counter, to be re-used 200 times. So evidently you only will pay less than € 1,- per occasion!
So be quick and take the advantage of this offer that will be valid until the 1st of February 2018.
Are you interested? Please contact us, so we can tell you more about the 'Fliplight'.