Vlastuin and STI nominated for a Sustainability Award
Vlastuin and STI nominated for a Sustainability Award
The new packaging line for One For All remote controls from Universal Electronics (UEI) is so eco-revolutionary that the jury of the Packaging Europe Sustainability Awards nominated the project in the Driving the Circular Economy category. The new cardboard eco-pouch, which has made way for all plastic blister packaging, is a design by Vlastuin together with partner STI.
Due to the paper composition of the product, the eco-pouch significantly reduces material-related emissions. For the new Evolve remote control alone, that amounts to a reduction of the CO2 footprint of no less than 24%! The new packaging is fully recyclable, without the need for material separation. In the year 2020, counting only three of the One for All remote control models, the collaborating partners have succeeded in reducing the waste mountain of single-use plastic by 20 tons.
This nomination in the Driving the Circular Economy category is a great recognition for the commitment to sustainable, reusable packaging based on innovation at both Vlastuin and STI. Together, groundbreaking work is being done in the packaging industry to keep creatively looking for new solutions and new standards in sustainability.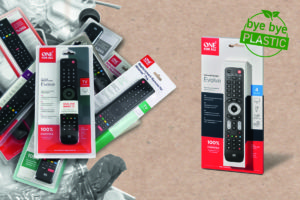 Bye Bye Plastic!
Thomas Hascher, Product Marketing Manager at Universal Electronics BV, is pleased with the recognition for the pursuit of a plastic-free packaging line. One of the biggest advantages of the new solution is the reduction of plastic. In addition, the logistics process was an important starting point. "We are gradually moving to sustainable alternatives across the entire width of our packaging lines. The fact that we are able to maintain our existing logistics processes and improve their impact in the stores is exactly what we had hoped to achieve. We are introducing the eco-pouch phased into our existing retail range, with no fundamental changes in presentation," explains Hascher. "In fact, the replacement of the old blister packs for this new cardboard packaging strengthens the image of the product category in the customer's perception. The retailers are also enthusiastic about it."
New image for electronics
The striking colours, the high-quality photos and the handy opening mechanism make the new packaging extra attractive for the conscious electronics consumer. Nearly one of every three remotes sold worldwide comes from Universal Electronics (UEI). The company is a leader in sustainability and is committed to encouraging the adoption and use of environmentally friendly packaging in the electronics industry.
Sustainability Award 2021
With a record 309 entries, this year's Sustainability Awards competition is more exciting and of a higher level than ever. The winners of the Sustainability Awards will be announced on September 29, 2021 at the FachPack. See also: https://youtu.be/-OE-gfnnzms