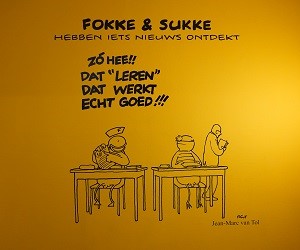 Old students inspire the new students
On February 19 and 20 Grandi Art took place at Het Baarnsch Lycem. An art manifestation, which has been taking place between the oldest lycea in the Netherlands since the 1930s. With performances by students and presence of, among others, the poet Thomas Möhlmann and cartoonist and writer Jean-Marc van Tol, former students of the school.
We wish Het Baarnsch Lyceum and all schools, teachers and students a lot of success and inspiration in the continuation and completion of the education in this course!